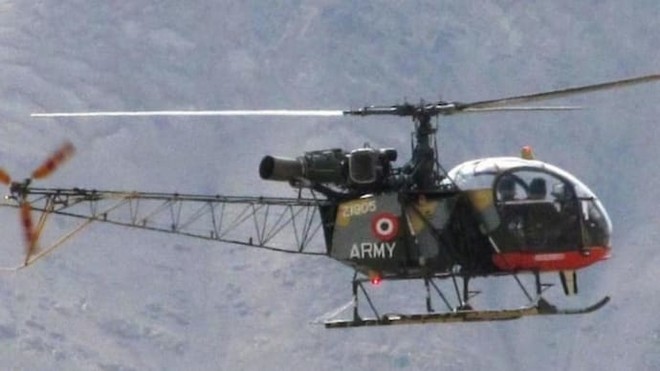 A lieutenant colonel and a major were also on board the helicopter. File photo: PTI
An Indian Army helicopter has crashed in the northeastern state of Arunachal Pradesh, but the search for the pilots is on.
According to Indian newspaper Hindustan Times, Army helicopter 'Cheetah' has crashed at Bomdela in Arunachal Pradesh during a specific military mission.
The helicopter lost contact with air traffic control at 9:15 am on Thursday.
Spokesperson of the Ministry of Defense, Lt. Col. Mahendra Rawat, has said in a statement that 'it is reported to have been destroyed near Mandala, west of Bomdila. A search operation has been initiated.'
According to reports, a lieutenant colonel and a major were also on board the helicopter. The helicopter was flying from Senje village in Arunachal Pradesh to Assam state when the accident took place.
In October last year too, an Indian Army 'Cheetah' helicopter crashed in which one pilot was killed and another was injured.
The helicopter crashed in the state of Arunachal Pradesh around 10 am.
After the accident, both the pilots were shifted to a nearby military hospital, but the pilot, Lt. Col. Saurabh Yadav, could not survive.
The Indian Army said in a statement that the reason for the helicopter crash is not yet known. Efforts are being made to find out the details.'
In March 2022, a helicopter crashed near the Line of Control in the Kashmir Valley. In this accident too, the pilot was killed while the co-pilot was seriously injured.
It may be recalled that in December 2021, Indian Army Chief General Bipin Rawat along with his wife and 12 others died in an Air Force helicopter crash in Tamil Nadu.